About | Targeted Students | Desired Characteristics | Requirements | Selection Process
About the Program
The Globetrotter Program is an interactive and "outside of the classroom" learning environment that focuses on self-actualization, service learning and global exploration. The program includes a 6-8 month in-country curriculum, as well as a 2-3 week international trip that combines physical adventure with cultural enrichment and philanthropic service. To date, the Dustin's GreenHouse Globetrotter Program has taken students and teachers from across Guilford County to Guatemala, Uganda, Ecuador and the Galapagos Islands, Peru, Romania and Hungry. This year we will be selecting our students for our Globetrotter Program from one of the six high schools particpating in THE Club.
Our Globetrotters will become part of a team (one teacher and two students from each school) who will commit for two years to head up a campaign to promote service learning and the formation and leadership of THE Club within their high school. They will become part of a countywide team that will plant the seeds of service learning and global awareness across Guilford County.
We will train our Globetrotter team in leadership, organizing, fundraising that will cuminate in a trip to South Africa, where they will get the chance to experience Africa first hand, the people, the culture, the wildlife.
Students We Target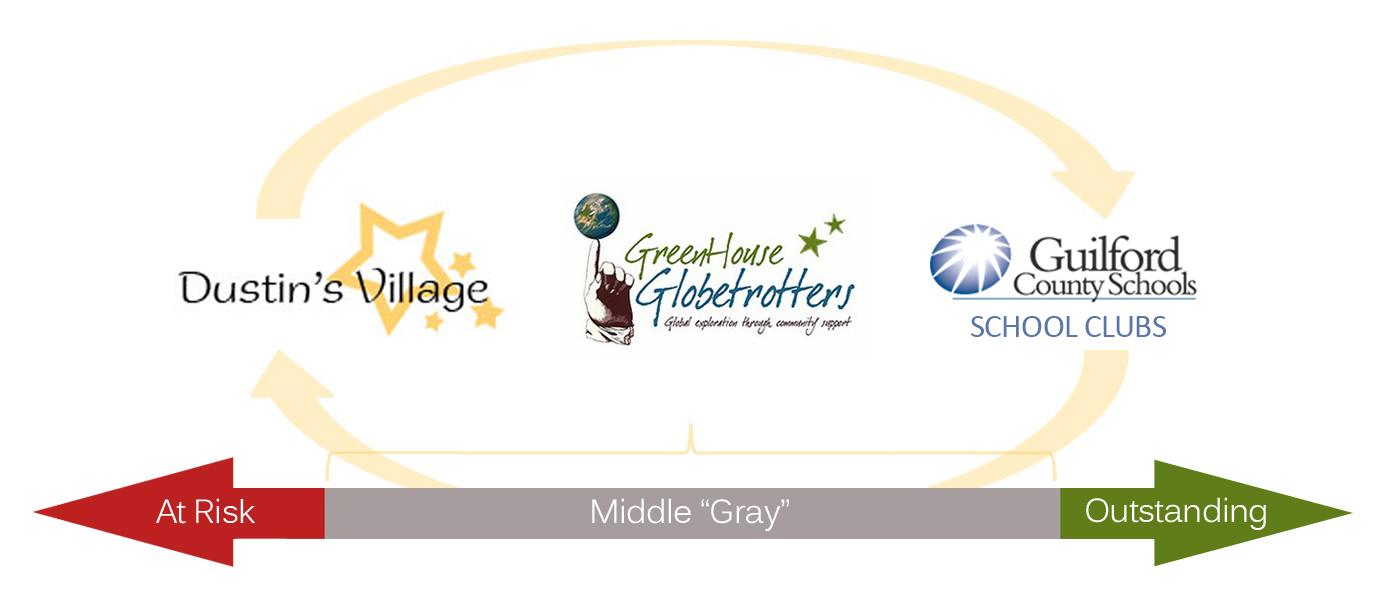 High school is a formative and vulnerable experience for most students, and arguably one of the most pivotal chapters in a child's life. It represents a period of time during which academic successes and failures, extra-curricular activities and personal/life choices begin to have a direct impact on the opportunities that will (or will not) be available to a student in the future. High school is also a time when self-esteem seems to dissipate, family dynamics are tested and new levels of negative influence begin to surface at every turn.
Recognizing that we cannot possibly serve all high school students, DGH has chosen to focus on the kids in the "gray" zone. These are students who are not recognized for exceptional talents or achievements. Nor are they classified as "at risk." These are the under-nurtured students who too often are overlooked because they do not draw attention to themselves – through positive or negative behavior, and the results of these omissions mean untapped potential and missed opportunities.

This year we will only be accepting applications from Freshman, Sophomores and Juniors. Since we are asking for a two year committment we will not be accepting applications from Seniors.
Characteristics We Look For In Scholarship Recipients
A desire to explore different cultures, customs and beliefs with a compassionate heart and an open mind
A commitment to investing in personal growth which requires vulnerability, self-reflection, honesty and self-discipline
An ability to work well with others in diverse, high stress environments
A track record of being able to overcome adversity and to learn from one's mistakes
A positive attitude and strong work ethic
Charisma and a sense of humor
A desire to serve others and to be a part of something that is bigger than one's self
DGH also takes into consideration the following:
The anticipated impact a Globetrotter experience would have in the student's life
The unique contributions a student would bring to a Globetrotter team, artistic, personality, skills, leadership qualities.
Socio-economic limitations that would otherwise limit/prevent an applicant from pursuing similar experiences
The applicant's involvement in THE Club at your high school.
Applicant Requirements
Applicants must be enrolled in a high school within the Guilford County Schools system. (Students in their senior year are not eligible for the Globetrotter program this year but will be encouraged to be involved in THE Club. Freshman, sophomore and junior students who apply to the program are expected to give a two year committment to be service learning leaders within their school.
Applicants must submit a completed Application Packet, which consists of a student application and nomination/sponsor form. (Teachers, principals, employers and/or community or church leaders are invited to complete nomination forms on behalf of applicants.)
Applicants cannot have a criminal record.
If selected, scholars are expected to attend team meetings and functions for THE Club.
If selected, scholars are expected to become Guilford County Service Learning Ambassadors
If selected, scholars are responsible for their own transportation to and from meetings.
If selected, scholars are required to get a US Passport, or demonstrate that they already have a valid US Passport. (This includes financing the cost of the passport, approximately $120, and managing the passport application in a timely manner.)
If selected, scholars will need to have an up-to-date Tetanus Shot and will be expected to get the vaccines required for traveling to our destination country. A list of vaccines required for each country can be found at the Center for Disease Control's website. (Students are also responsible for financing the cost of these vaccines.)
If selected, scholars will be expected to be involved in fund raising activities to raise money that can be used for costs of the program and the trip to our destination country.
Selection Process
Applications for the 2013 Globetrotter Team are due Friday, December 21st, 2012.
Students who fit within the Applicant/Scholar Requirements and who demonstrate some of all of the characteristics we are seeking in a Globetrotter scholar will be invited to participate in a series of in-person interviews, which will take place in January 2013.
A selection committee will then consider information gained through application packets, student interviews and social media to narrow the applicant pool down to a group of prospective finalists. The finalists will be invited to join the 2013 Globetrotter Team contingent upon their ability to satisfy scholar expectations, which include:

Attending team meetings and participating in team events;
Demonstrating behaviors that are consistent with those conveyed in their application packet and during the interview process;
Playing an active role in team development activities, including helping to raise funds for community service initiatives; and
Demonstrating ownership over the Globetrotter experience (which includes meeting passport and immunization deadlines.
Continuing the promotion and development of service learning and global awareness at their high school.
A final list of the 2013 Globetrotters will be published in January of 2013.