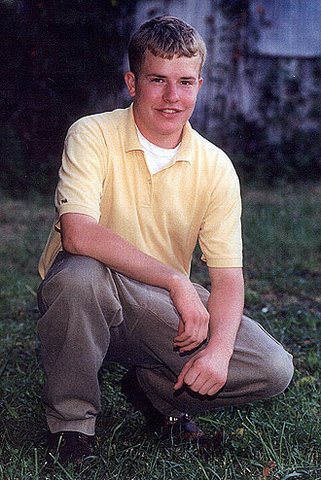 In Loving Memory
Dustin Ryan Green
October 1 1982 - April 15 2002
The first thing that comes to mind when I think about Dustin is his smile. He was a natural comedian. His goofy grin and hilarious one-liners could rob any situation of all seriousness. He would go up to his sisters, stick his armpit in their face and say "Will you smell my armpit?" He had nicknames like Onion, Chunk and Chief for all of his friends. It came as no surprise when he was voted the funniest guy in his high school class. Regardless of the situation, Dustin Green had a contagious personality. He made everything brighter.

Growing up it was rare that you would see Dustin without crayons and a sketch pad in hand. It was evident early on that he had an unusual artistic talent. Dustin would spend hours drawing as we looked on with amazement. If one small detail was not perfect he'd say it wasn't good enough, tear it up, and start all over again. He also loved to play with Lego toys, Nintendo, and outside with the neighborhood boys. He would play roller hockey in the streets and build elaborate forts in the backyard. In high school Dustin started working at Sedgefield Country Club as a cart boy. After work he would head out on the course to play a round of his own. In the span of three years, he fell in love with the game.

After high school Dustin's parents asked him what he would like for graduation. What he wanted more than anything was an old jeep he could spend his summer fixing up. What he got was a three week backpacking trip through Ecuador. Hesitant to leave friends and family behind Dustin headed south expecting the worst. But after playing soccer with children in a native village in the Amazon, hiking through the Galapagos Islands, and riding horses in the Andes his perception of travel took a 180 degree turn. Diversity, challenge and new cultures gave Dustin a new outlook on life.

Dustin's artistic talent, passion for people and amazing personality followed him to North Carolina State University in the fall of 2001. He had plans of applying to the school of architecture, and had pledged the fraternity Pi Kappa Alpha. NC State and Dustin were a perfect fit. In a phone call home to his sister Mallory he said, "I am having the time of my life."

Less than a week after this phone call, Dustin's vibrant personality and unlimited potential were taken away. Dustin was riding with a friend across campus. The boys had been in the car less than a minute when the driver ran a red light. The Jeep Dustin was in was broadsided and Dustin was thrown from the car. He was the only person seriously injured. Just one mistake and a matter of seconds took his life away and changed our world forever.